Studio
About Us
ARCHETONIC is a Mexico City based study with more than 30 years of practice in architecture projection.
All our projects have the base commitment to improve the environment, paying special attention to design methodology, materials and local processes.
We design spaces with a systemic methodology: self-sufficient and sensitive to the context, with spatial quality and economic responsibility, always keeping in mind that architecture is to inhabit, serve and coexist in society.
Deciphering the formal limitations of design has led us to generate opportunities to experiment and achieve unique spaces; thanks to a wide knowledge of operation we achieve optimal functionality in our projects.
We approach challenges of any scale, gender and temporality; taking care of even the smallest detail, from its conception to its execution.
Our team is guided by instinct mixing experience with young talent. To date we have more tan 120 built projects (residential, commercial, tourist, offices, interior and cultural) that are backed by national and international awards and recognitions.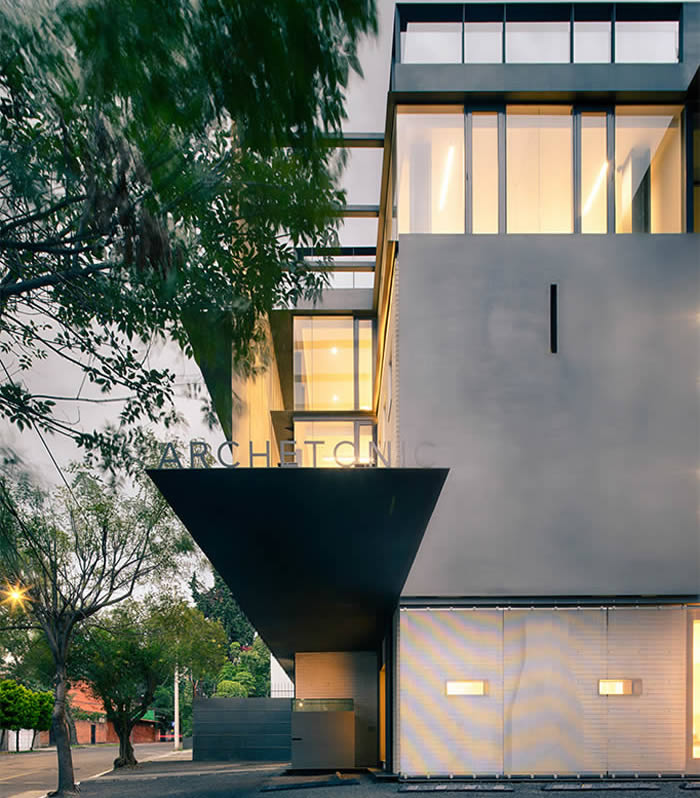 JACOBO MICHA MIZRAHI
He studied architecture in "Universidad Anáhuac" (Mexico City 1996)
He founded ARCHETONIC in 1991 and since then, has designed, developed and built more than 80 projects in the areas of housing, commerce, tourism and offices.
His firm has an ample experience in master planning design, real estate development and architectural design, interior design and construction.
His work has received varying awards from which stand out: 1stplace in the hotel "Marquis Los Cabos" competition, 1stplace in "Premio Obras Cemex" in the category of Construction of Housing Compound for 2 consecutive years, award for Work of the year in the category of Multifamily Residential Compound by magazine "Obras", nominated 2 consecutive years in the World Architectural Festival (WAF)and multiple awards for the construction and design of the hotel "Marquis Los Cabos".
A big part of this solid professional trajectory was published and distributed by editorial Arquine in the book "Archetonic / Jacobo Micha Mizrahi" showing the first 10 years of architectural production by his frim. His work has been published in many specialized medias, both national and international, and he has been invited as a speaker in multiple Mexican universities.
He is currently studying the master's degree in Design of Urban Spaces, Architecture and Mobility at the ESDESIGN school in Barcelona.
JAIME MICHA BALAS
Architect established in Mexico City, with practice on different programs and scales around various states of the country. He is involved in design on multiple levels, layers, and contexts.
He holds an architecture degree fromUniversidad Iberoamericana(Mexico City) and a Masters degree in Design Studies fromCENTRO(Mexico City). As part of his education, he had the opportunity to study abroad at the University of New South Wales (Sydney, Australia), taking part on the workshop led by Glenn Murcutt (Pritzker 2002).
He has been part of ARCHETONIC since 2011 and is Co-founder of MIIN (2020).
His architectural practice has addressed, professionally and academically, projects in different latitudes and contexts. From urban planning to architecture of different types, in the city, rural areas and tourist destinations.
His interest for discovering different facets of design has led him to challenge the boundaries of architecture and experiment with furniture, editorial and graphic design, as well as being constantly developing in the academic field.
The Design Studies contribute to his training as an architect and his ability to establish complex and effective links between ideas, processes and trends in business and cultural innovation; the application of creativity in the teaching-learning processes and strategic design in the public and private context.
His master's thesisUPCYCLE: spatial approaches to the architectural intervention in pre-existing buildingsaddresses one of the more actual forms to practice architecture and urban planning today and obtained an honorable distinction.
He formed part of theCátedra Blancaprogram supported byCemex. The project was developed with a responsible urban intervention criteria and proposes the use of a remnant property of the city linked to theGlorieta de los Insurgentes.
His built work has been published and awarded internationally by different institutions and publishers.
ALAN MICHA BALAS
He studied Architecture in the Universidad Iberoamericana (Ciudad de México 2018). He was an honorable mention and awarded the "Premio Manuel Garibay" for his academic excellence and outstanding performance.
As part of his academic career, he's been involved in numerous workshops, dealing with topics such as, understanding the site and its characteristics, social housing models, bioclimatic design, among others, that have allowed him to develop in an integral manner.
He had the opportunity to participate in a research and design workshop held by Arq. Julio Gaeta, where he aided in collecting research material and information to better understand immigration in the southern border of Mexico.
This research was used to design a shelter for immigrants that responded to their particular necessities and those of the locals, resulting in an architectural project with characteristics inherent to the area, an optimal adaptation to its context and an important social participation.
He joined the team at Archetonic in 2017 where he performs in the design area as a Project Coordinator, developing projects from its conceptualization to its proper construction, and in the financial area, where he analyzes the viability of future projects.
Team
Aida Serrato
Alan Micha
Alfredo Muñoz
Angelica Morales
Antonio Chong
Armando Dosal
Azucena Silva
Betzabe Zavala
Ciro A. Sánchez
Clara Micha
Daniel Micha
David Gonzáles
Desireé Gómez
Eduardo Brito
Elihú Vázquez
Elizabeth Silva
Elsa Medrano
Ernesto Rossell
Gerardo Fonseca
Gerardo Salazar
Ghandi Palomec
Jacobo Micha
Jaime Micha
Jessica Steiner
Jorge Pineda
Leonardo Trejo
Luis A. Morelos
Maricruz Ramírez
Miguel Matus
Moises Chiver
Patricio Medrano
Ruben Velázquez